MALT EXTRACTS
100 years (1908 – 2008) of production
The tradition of malt extracts production in our firm dates back to as early as 1908. The extracts are obtained from the sweetwort, which is ground malt of our own production carefully boiled in drinking water. The sweetwort is finally thickened in technologically unique evaporation tanks in which water boiling and evaporating is reached at a temperature as low as around 45 °C, thus not damaging the chief component of the extract – maltose – by caramelization.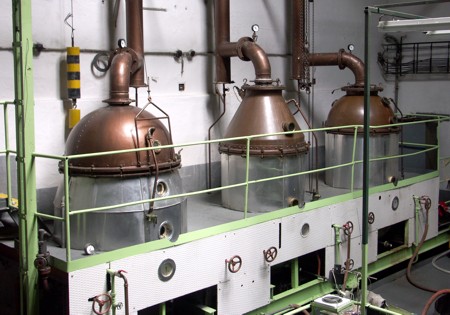 The malt extracts of our production can be divided into nondiastatic, diastatic and highly diastatic, which predetermines them for further use. Nondiastatic, also called candit and diastatic – or bakery are used in the food industry, the highly diastatic or textile are used in industry.
We produce grocery malt extracts in liquid (thickened) state of honey consistency or dried in the form of powder. The liquid malt extracts are dense liquids, of honey consistency, with a sweet malt taste with completely distinctive malt scent without any heterogenous odours. They contain approximately 76 % of saccharides, out of which 56 % is maltose and 9 % glucose, and also 6.2 % of proteins and 1.2 % of mineral substances. The diastatic power ranges from 200 to 350 Wk units in nondiastatic extracts, in bakery – diastatic – it is from 2500 to 4000 Wk units. The malt extracts have high content of B vitamins (especially niacin), calcium, sodium, phosphorus, chlorine and ferrum. The malt extracts are suitable as sweeteners in macrobiological cuisine; they can be added to tea, milk, gingerbread etc. Because of their composition, the malt extracts are an exceptional dietetic, appropriate nutrient supplement especially for children, adolescents, pregnant women and breastfeeding mothers as well as for diabetics of type 2. Our extracts act as a gustatory ingredient of tonic mixtures in pharmaceutical formulations. For their high content of fermentable and easily absorbable maltose sugar, the malt extracts form basic material for maltose wine production and act as a great fermentation agent in production of apple and other fruit wines.
Our malt extracts boast a high content of niacine (vitamin B3). Niacin is one of the few vitamins that are relatively stable and cooking resistant. It is essential for forming the sexual hormones oestrogen, progesterone, testosterone and others. It diminishes the level of cholesterol in the body, keeps the digestive tract functioning well, helps to prevent migraine, decreases high blood pressure and stimulates blood circulation.
The use of malt extracts in bakery and confectionery deserves a special chapter. In liquid as well as dry state, malt extracts form an indispensable part of improving bakery agents. Typical malt baked goods are for diabetics and people with special diets. It is easily digestible and has the ability to boost resistance to metabolic disorders in organisms. Enzyme non active malt extracts (liquid or dry) ensure supply of fermentable sugars and simple nitrogenous substances necessary for the raising process thus improving fermentation processes in the dough. They promote the fermentation process in yeast thus forming the volume in baked goods. They sustain crumb as well as crust elastic longer. Thanks to them, the baked goods look better, the porosity is balanced, they help with fragility and crust hue, and improve looseness, taste and durability of pastry. The malt extracts are used in water, milk as well as short baked goods, for instance in rye bread with honey, with soya, sunflower, and also in malt choice bread, wheat and wheat special light baked goods, oat and wheat dietetic breads. Many of our customers – bakeries – use malt extracts in their own secret recipes.
In confectionery, the malt extracts are added in durable products such as gingerbread, crackers, biscuits, rusks and extruded products. They are amply used for production of biscuits and sweets like Toffo and caramel, pomades like milkmalt, bonded and delicate biscuits, as a filling in chocolate products, muesli, ovomalt, etc.
There has been a growing interest in malt extracts for beer production in minibreweries all around the world recently. That is why a new product enabling production of home-made yeast beer was added to our production programme.
In cooperation with the company Pilsner Urquell (Plzeňský Prazdroj), we have developed a malt tinger for final colour shading of the beer in breweries and also for colouring bakery products (bread rolls). We are able to produce malt tinger of EBC of required by customers ranging from 5200 to 10000. The pH value is about 4 – 5, extract 72 – 77 %.
Industrially used textile malt extract with high diastatic power is utilised in the textile industry for rot-steeping (destarching) of cotton.
All of our products are natural, without any preservatives or stabilisators.

Related information: